rs2 increases registration rates with interactions
Radio station rs2 regularly uses radiosphere's extensive interaction capabilities to increase usage and generate valuable data.
Our customer rs2 in Berlin regularly uses interactions to increase the use of digital channels and motivate users to register. The extensive possibilities of radiosphere offer the possibility to increase concrete key performance indicators (KPIs) such as audio sessions or registration rate. The creation is simple and provides a very good user experience for the listeners.
Example 1: Increase App Usage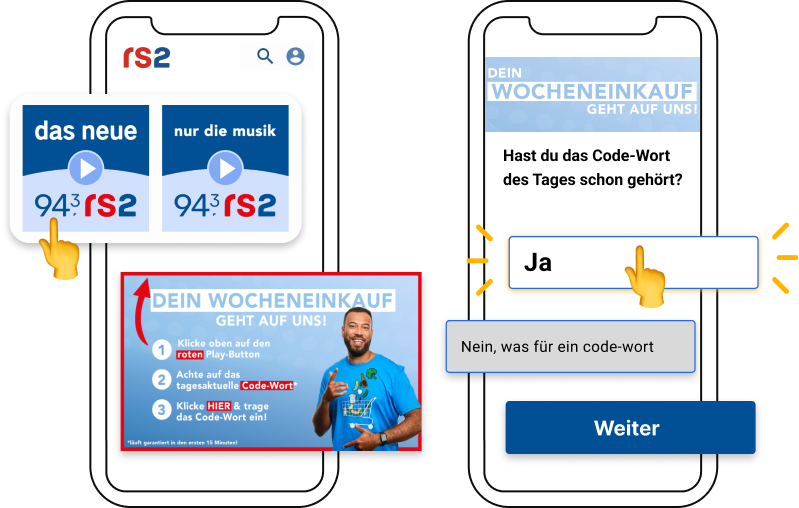 The interaction was a classic radio sweepstakes with the difference that participation was only possible for registered users in the app. This significantly increased the app usage and especially the registration rate in the corresponding period.
The user is guided through a simple questionnaire on the subject of their dream vacation

The campaign was promoted on-air, the only way to partcipate was via the App

Users must be registered and logged in to participate

A wish was granted among all participants
Example 2: New registrations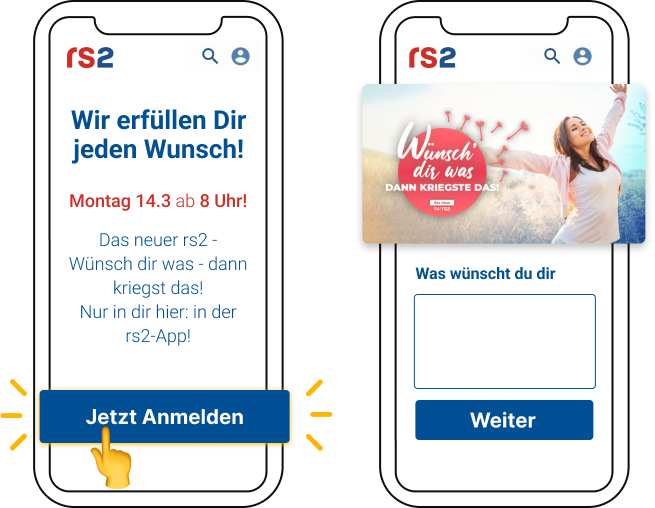 The special feature of this interaction was the linking of on-air and off-air elements. The goal here was to get existing FM listeners to use the app and/or register in the app. rs2 was able to achieve very good results here with very little effort.
The user listens to the radio either via FM or directly via the App

A winning code is announced on-air

This code must be entered in the App

Users must be registered and logged in to participate

Each week one winner is selected and their weekly purchase is paid for
Want more information or a demo? Get in touch